Summit Properties Limited is a commercial real estate company and has assembled a sizeable portfolio of properties, located mainly in Germany's key financial centres. Our primary emphasis is the purchase, holding and management of office, retail, logistics and other commercial properties, which provide income by way of lettings to large corporates, governmental and other public sector entities, and other commercial tenants.
We seek to actively manage our revenue risk by targeting mainly multi-let properties and actively managing the properties to achieve high levels of lease renewals and new lettings.
Our overall strategy is to build, by acquiring further properties, a high quality and sizeable portfolio of internally managed German commercial properties, capable of delivering stable cash flows and an attractive dividend yield to its shareholders.
We employ a professional team of approximately 50 people in our offices in Berlin and Frankfurt.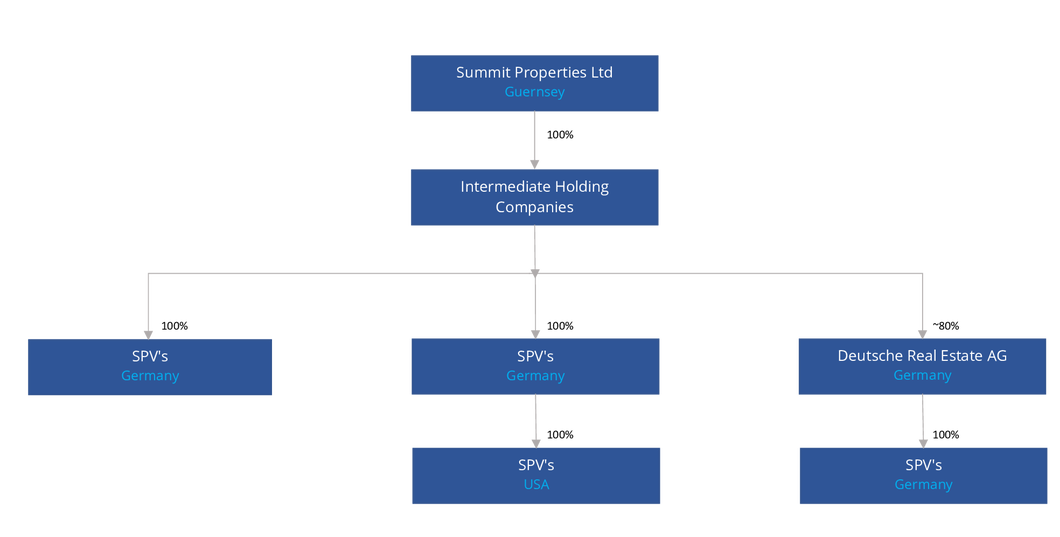 The board of directors is responsible for the proper management of the Company by formulating, reviewing and approving the Company's strategy, budgets, and corporate actions. It is important that the board itself contains the right mix of skills and experience in order to deliver the strategy of the Company. As such, the board is comprised of:
two executive directors; and
three independent non-executive directors.
The biographies of the directors are set out below
Zohar Levy
Managing Director
Zohar Levy, a CPA, is the controlling shareholder and chairman of the board of the Summit Group, a group of companies which specialises in investing in office, industrial and commercial properties in Israel and Germany, and in developing, improving and managing such properties. Zohar Levy acquired control of the Summit Group in early 2003 and has since developed its business significantly through debt restructuring, the improvement of its properties by way of lease negotiations and renovations, and the acquisition of numerous office, commercial and industrial properties throughout Israel and Germany. Prior to his involvement with Summit, Zohar Levy served for a decade as the Chief Financial Officer of the Engel group of real estate companies, which specialises in the development of residential properties and the acquisition and management of commercial properties in Europe and North America.
Itay Barlev
Finance Director
Itay Barlev, CPA, joined Summit Group in 2014 as the Finance Director of the Company. Itay has years of experience in reporting and budgeting, purchase and sale of real estate, internal control procedures and bank relations as well as various financial affairs of real estate portfolios. Until October 2014, he was the director of the Fishman Holdings Germany GmbH in Berlin for eight years. Previously he served as financial advisor in KPMG. Itay has a B.A. in Economics and Accounting (CPA) and M.A. in Legal Studies. He is a resident of Germany.
Quentin Spicer
Independent Non-executive Director
Quentin Spicer is resident in Guernsey. He qualified as a solicitor with Wedlake Bell in 1968 and became a partner in 1970 and became head of the Property Department. He moved to Guernsey in 1996 to become senior partner in Wedlake Bell Guernsey specialising in United Kingdom property transactions and secured lending for UK and non-UK tax resident entities. He is Chairman of a number of Companies including F&C UK Real Estate Investments Limited, Quintain Guernsey Limited and the Guernsey Housing Association LBG. He is also a non-executive director of several other property funds including Phoenix Spree Deutschland Limited. He was formerly a director of the Company when it was admitted to trading on AIM in 2006 until it was de-listed. He is a member of the Institute of Directors.
Christopher Le Page
Independent non-executive director
Christopher Le Page is resident in Guernsey and has worked in the Corporate and fund administration arena for over 30 years, with a wide-ranging knowledge of Governance practices, lending and hedging products and in relation to the operation of corporate structures which include regulated investment fund structures, listed companies, real estate, trading companies, and a wide variety of asset holding structures. He has also gained considerable experience in working with companies and funds listed on exchanges including the London Stock Exchange (main market and AIM), Irish stock exchange, The International Stock Exchange and Luxembourg. Chris currently acts on the boards of a number of private and regulated structures. He holds the Diploma in Company Direction.
Selwyn Proctor Jones
Independent non-executive director
Selwyn Jones is a resident of the UK. He started his stockbroking and investment banking career in 1976 at the Government stockbroking firm Mullens and Company and specialised for over 40 years in the UK and pan European Real Estate sector as an Investment Analyst and equity Salesperson. He also worked for Rowe & Pitman / Warburg Securities following their merger with Mullens in 1984, and has also worked at Laing & Cruickshank, Collins Stewart and most recently Cenkos Securities. He retired from Cenkos in December 2021.
He was appointed a non-executive director of the company in December 2021.
Directors' Responsibilities
The Directors are responsible for managing the business affairs of the Company in accordance with the Articles and have overall responsibility for the Company's activities, including the review of investment activity and performance. The Directors are also subject to certain statutory duties under the Companies (Guernsey) Law 2008, as amended, in addition to their fiduciary duties and their duty to exercising reasonable care, skill and diligence, which are expected of a director of any company.
General
The Company is led and controlled by the Board of Directors with two Executive Directors and three independent Non-Executive Directors. The Non-Executive Directors constructively challenge and help develop proposals on strategy. The Board has adopted a formal schedule of matters specifically reserved to the Board for its decision concerning key areas across the Group's activities, thereby ensuring that all major decisions affecting the Group are taken at Board level.
The Directors recognise the importance of sound corporate governance commensurate with the size and nature of the Company and the interests of its Shareholders.
Audit Committee
The audit committee comprises three independent Non-Executive Directors and meets at least twice each year. The audit committee must consider, amongst other matters: (i) the integrity of the financial statements of the Company, including its annual and interim accounts and the effectiveness of the Company's internal controls and risk management systems; (ii) auditors' reports; and (iii) the terms of appointment and remuneration of the auditor. The committee supervises and monitors, and advises the Board on, risk management and control systems and the implementation of codes of conduct. In addition, the audit committee supervises the submission by the Company of financial information and a number of other audit-related issues.
A link to the audit committee terms of reference can be found
here.
Anti-Bribery and Anti-Corruption Policy
The Company has adopted an appropriate anti-bribery and anti-corruption policy to combat the risks associated with bribery and corruption which may be applicable to the Group.